Dear friends,
We wanted to give everyone an update on our little bundle that came to be with us January of this year.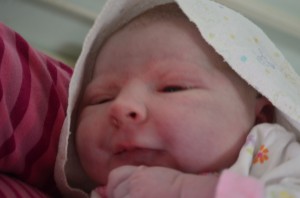 In so many ways January seems like a lifetime ago, even though it was only eight short months ago.  Autumn Grace has yet to be outside of my womb for as long as she was inside it. Already she is crawling, standing, walking along furniture and saying mama. We are in love with our little bundle and she is a happy baby. She has two doting brothers who most days anxiously wait on her.
In hindsight we are so amazed at how God sustained us during those first few days. We went from delivering a healthy baby to finding out something was seriously wrong. Listening to them put an IV in my baby was completely unnerving but I am thankful for the caring staff in both Montserrat and Florida.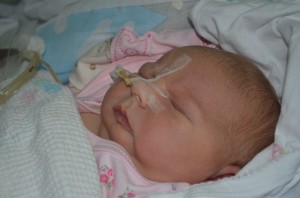 After her delivery we were told she had Pierre Robin sequence. My first thought was about how I would possibly be able to stay awake 24 hours a day to monitor her breathing and take care of my boys at the same time. We knew the outcome would be okay, but how were we going to manage this? Then things went from bad to worse when she could not process any food. Of course even if she could, Montserrat had no special needs bottle to feed her. As it was, the hospital didn't even have the proper IV solution for infants and they were making the best out of what was available on island. A cleft soft palate fell to the bottom of the concern list.
After three days of her being in Montserrat, a bit of a tug-of-war between medical professionals, and a nearly crossed threshold of radiation that we were totally uncomfortable with (which we won't discuss here)…we were told we needed to get her to a children's hospital where an impending surgery would be possible. There was a blockage near the duodenum. We prayed and felt the most comfortable with Orlando, Florida where my brother lives. Then the next challenge came. Even beyond finding an open international flight, it was a holiday and there isn't a U.S. embassy in Montserrat. My mother in law, Clover, was on the phone for hours with the emergency number in Barbados… We were able to get her Birth certificate followed by an emergency travel document for the islands. There were numerous hurdles in this entire ordeal of traveling with a new born without international documents, especially these days. It's quite unbelievable when you think about what this entails.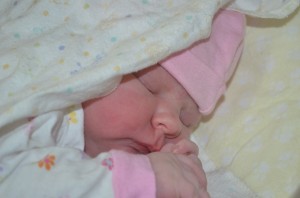 Autumn was born on Saturday morning. Astoundingly, as if it was preplanned by God, uncle Jesse and aunt Elise had arrived on her birth day and took over parenting responsibilities with the Lea family for the boys. On Tuesday around noon… Sun, Autumn, and I had made it to Antigua. We spent the rest of the time before the plane was supposed to depart for Miami (with us prayerfully in it) with two representatives of American Airlines. These two ladies were incredible and worked feverishly to help us board the plane in these unusual circumstances. They spent time on the phones, waiting for faxes, talking to customs, talking to cooperate offices…
During this time Sun and I found a place to sit down with our three day old baby who was still hooked to an IV to keep her from being dehydrated. We just enjoyed each other and our baby. We were not stressed. We felt a complete sense of calm. The hours passed and  all the other passengers had checked in successfully and had gone through the line as we were left completely alone. We were calm and just waited even though we had a previous visit by the AA team which carried a negative tone of concern. Then these wonderful ladies came out and said "come with us". We were unsure of what was happening but we silently obeyed and they finally said, "let us check you in". We were heading through security and as soon as we were through they began to board the flight!
We were off to Miami with a newborn baby who couldn't consume and digest any milk. Our precious girl was great the entire flight, only waking for short lengths of time and she managed to stay happy with a carefully used paci.
In Miami there is sooooo much walking for a person carrying a new born who just gave birth three days ago. Somehow we managed and had peace. We arrived in the huge customs and immigration area and a man came and said, "let me take you to a shorter line". Praise God! I remember his face clearly and he was an angel to me. We went right up to the officer who at first scolded us for traveling with a newborn. We knew how unorthodox this was, how crazy we seemed, how we had pushed this far to border control without any documents that would satisfy the usual entry routine. We were only armed with certain words that we were instructed to (calmly) say, given to us by U.S. embassy representatives prior to leaving Montserrat. These words and proof of our own citizenship as parents travelling together. The whole experience was so surreal by now. We explained the situation and he walked away to seek a higher ranking officer. Sun remembers him mentioning that this was above his pay grade.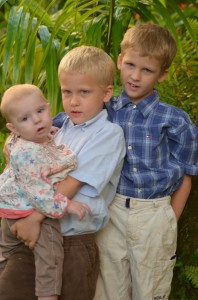 We quietly had faith that she would get into the U.S.  After all she had two parents with her as Americans on U.S. soil and proof of who she was in relation to us…but how long this process would take we had no idea. The superior officer came back with the other guy and reviewed what documents we had and he asked us the date of the last time that we were in the States was. We said October and he basically said something like "okay, according to this I officially verify that she is a US citizen…stamp their passports". I said, "are we done"?  He said "yes, go ahead". Praising God we left.
Then we walked for miles it seemed to pick up a rental car. Thank God they had a GPS and baby seat that we could rent with the car. Timing was everything now. Autumn had to be able to eat somehow and we weren't going to jeopardize not getting the help that she needed with just printed instructions. We were on our way to Orlando, swiftly. And as a side note I have never enjoyed more, on those crazy roads leaving the airport, hearing the word "recalculating".
At one point, we had to ditch using the IV solution because of a technical problem that we had totally planned for States-side, but couldn't overcome because of an incompatibility of medical parts in the kit provided. We found the emotional strength we needed midway through the drive when things started to feel shaky. We allowed ourselves to be re-infused with faith instead and Autumn calmed down. God was there.
After 12:00am Wednesday morning we arrived at the hospital. Even though we were with complete strangers we were never so relieved to see these people. They took us in almost motherly like. They brought comfort, drinks to us, had baby rehydrated within minutes. We knew we were where we needed to be. They also brought me a breast pump which allowed me to give breast milk to baby once she could have food. They took care of us all.
Next baby was whisked away for test upon test over the very early morning hours. The doctor that we met then prayed for us and baby! The nurses were all encouraging. The staff was impressed with Autumn's condition upon arrival, after hearing how far she had come and considering her circumstances. We had witnessed true miracles up to this point, just to get here. Then! This is where it gets interesting.
So the first tests showed that there was indeed a blockage. The results came from better equipment, full medical personnel, true expertise. Plans were being made for a rushed emergency surgery and further examination continued. We kept praying but felt very calm the whole time. It felt like a long dream that one might awaken from at any time. We were so tired in so many ways, drained of everything except faith and a certain peace that truly does pass understanding.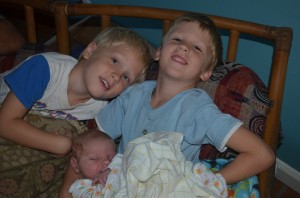 A short time later, the doctor decided to order another test with barium contrast consumed by mouth to determine the extent of surgery to plan. It seemed crazy of course as Autumn never could consume anything as it came right back up. So Sun went with Autumn to another elaborate testing room and watched the large live video monitor to see all of the barium fluid go straight through Autumn's system without a hint of restriction. The blockage had completely disappeared! PRAISE GOD!!! The technician continued to investigate and was very thorough because this didn't make sense in her experience.
It was said by the technician and doctors that this wouldn't have just happened this way, naturally unblocking as if something had been merely stuck. This would have been fused together, requiring surgery. Our first doctor agreed that it was a miracle!
When there was daylight, we then were admitted to the Arnold Palmer Children's hospital. They would now focus on the Pierre Robin sequence (PRS). They sent in an occupational therapist with a Haberman bottle to begin to teach us how to feed her with the cleft palate. At this time they still had a feeding tube in her because it would take a bit of practice before she could eat on her own.
Dr. Ruiz came in the room (Myocranial specialist) to look at the cleft and the receded jaw. Quickly they observed her oxygen saturation levels were too low below 90 sometimes in the 40's and 60's… This meant she was not breathing well (a common occurrence with PRS). We were then sent with special orders to NICU at Winnie Palmer across the street. We went from being joyful to watching our daughter be put in an incubator, rushed across the hospital… That was the hardest part for me. I think the high from everything is going to be okay  to everything is really not okay and this is very serious was a lot to handle. I lost it and burst into tears. The staff was so gracious allowing us to go through the process and just being there to bring support and comfort.
On the other hand we realized how amazing it was that she was allowed into this particular facility, as the doctor forced it to happen. Normally, Autumn wouldn't have been allowed here unless she was actually born inside the facility. At NICU she would have a nurse monitoring her 24/7 that would move her over to help her breath… We had to leave the hospital that night where we stayed at the Ronald McDonald House very weary and going through many emotions. At this time, we had not slept a wink since leaving Montserrat and before this, I don't think anyone slept hardly at all since Autumn was born. We had peace enough to catch some sleep and very gratefully a place to make that happen quite close to the hospital.
The emotions were all still there. We were also being prepared that she may need a tracheotomy or jaw surgery. The trach would have to be in for six weeks until her jaw developed enough that she would breath on her own, or they would break her jaw and move it forward each day for a two week time period.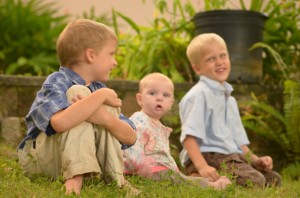 The next day we came into the hospital and we found out that she was doing great! We also came several times through the night to feed her via feeding tube with milk that I was pumping. The entire time her oxygen levels came up and stayed up! When Dr. Ruiz came in the room he looked at his assistant and said "is this the same child we were looking at yesterday, I was not dreaming was I?"
We were kept in NICU for a few days to make sure all was well. While there, we saw things that were heartbreaking and we were blown away by the compassion of these nurses. This particular section or "pod" in the NICU, where the most desperate infants are being cared for, is hard in some ways to describe. We would have never been able to imagine or grasp the reality of this world unless we had witnessed and found ourselves within it. We learned so much as we saw, we understood, we grieved. It was difficult to find joy in our good fortune as the baby next to us did not make it.
We prayed for the family and was heartbroken for them. Going to bed that night we grieved for the baby we did not know. God knows him and I know he is in heaven now . But knowing that still does not take the grief away. The nurses have wonderful counselors that come to help and many have to take the day off as these children become their children too. After all they see them every day for 12 hours straight. These are events we could never forget or take for granted, it changes you.
Once Autumn was off the feeding tube using the Haberman bottle and having enough wet/dirty diapers we were moved to another area (pod) of NICU that was less monitored. A few steps further down the pod list and we knew the next step was home.
Once released we were on our way home. We made the drive back down to Miami and came back to Montserrat with a healthy baby! All she has walked away with is a small jaw that will hopefully continue to grow out and not need surgery and a soft cleft palate that will be repaired March of 2014.
At home we shifted into life with a newborn :). The first year goes by so fast and is so tiring, but we are happy and blessed. We began to receive the medical bills, the grand total came to about $35,000 USD! So we prayed and applied for grants from various community service projects. We were accepted and all bills have been adjusted to 0.00! We owe nothing! Praise God. It took months of applying, sending /faxing documents upon documents… But it is all worth it now. Quite a learning experience we've had, some life lessons along the way.
We did put all our travel on credit cards as we did not have enough saved for this kind of rainy day. The total for travel while we were there was  about $4000.00… $2400.00 airline tickets, $700 car rental, $200 gas, $200 to the Ronald McDonald House, and the food at the hospital, along with other odds and ends you run into. While we were happy we were able to have the credit we needed, it certainly wasn't optimal. After a few years of work not being the greatest within this very small population of Montserrat, we had established a better income with a newly acquired business in Montserrat that was putting food on the table and paying for some debt that had accumulated over time. However the money we paid off went right back on for our wonderful daughter. We know God is faithful and He will work all of this out also. It's all a part of the completeness and wellness God has in store for our family.
In March we have to travel back to Orlando as well for her surgery on the soft palate. We are praying for the finances to come in for that as travel is what will be most expensive. However at least knowing so far in advance gives us time to plan and hopefully snag the best tickets.
Currently it is hard to imagine in and of our own selves where the money would possibly come from for this kind of travel when we are still trying to get back on our feet from January, but we've seen miraculous things happen all along the way! We appreciate your continued prayers for our family and we look forward to giving you a positive update in March after Autumn's surgery. Please pray for us and with us that the guest house accommodations business and computer business would be very successful. We really appreciate all your support.
Love to all and remember God is amazing, He does care, and prayers are answered.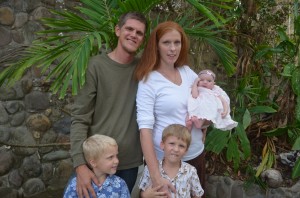 Sun, Kristina, Seth, Isaiah and Autumn Grace (We received bountiful Grace from the moment she had her name…)